What Motivates You to Learn English?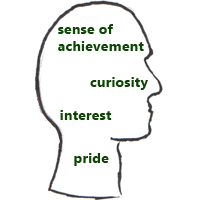 I've recently watched two interesting TEDxTalks on youtube. Two hyperpolyglots talked about learning languages. (Hyperpolyglots are people who can speak several languages). Which made me think about my own approach towards languages and learning strategies, and I realised that I use(d) mostly the same strategies. Some of them go hand in hand with each other, some of them work on their own.
To be successful, the first thing to do is fall in love with your work.
 – Sister Mary Lauretta
Why are you learning English? What motivates you to learn English?
Do you have to pass an exam, get a good grade, or need it for your job or a